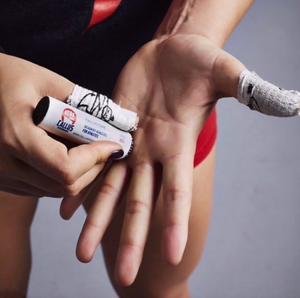 PROACTIVE CALLUS CARE IN ACTION
FAQ
At Callus Performance, we care about our customers, and that is why we've set up this FAQ page for you to get an answer to most of the frequently asked questions! This page explains many queries, and this page is for those who want to learn more about our company, products, offers, discounts, shipping details, billing details, and more.
In case you are searching for something or have a query regarding anything related to our company such products or shipping then you can contact us here.
General Product FAQ
1.What is Callus Performance, and how do I use it?
Callus Performance® is designed by athletes for athletes; we have assured its design will prevent the ripping of your hand by strengthening the callus area to be able to continue your regular workout routine. Callus Performance® works in two easy ways: by trimming and by shaving the calluses; this will level the calluses with the rest of your hands by carefully removing excess skin.
2. Is it easy to cut yourself with this?
No, if instructions are followed it is the safest tool to remove the calluses. You can use the blade for trimming and shaving the extra build up or as much as needed, then switch to the other side and use the Emery Cloth sandpaper to smoothen it.
3. Can this be used on your feet or only hands?
Yes, you can use it on your feet like the way you use it on your hands. Use the blade for trimming and shaving, then switch to the other side and use the Emery Cloth sandpaper to smoothen the area. A lot of runners use it for their feet.
4. Does this product weaken the skin?
No, this product will not weaken the skin, but it'll help in keeping the callus from ripping and causing painful irritation and bleeding.
5. Will this work for a gymnast?
Absolutely, the product is designed by athletes for athletes and can be used before or after any activity, which requires continuous friction of the hands such as Gymnastics, Climbing and Weightlifting. The Callus Remover Blade is a patented technology that everyday cross-fitters and professionals like Amanda Barnhart and Bethany Shadburne use to stay on top of their game, so they don't miss those critical performances.
6. Where is it made?
Made in USA
Orders, Shipping, and Delivery FAQ
1. After placing an order, when it will be shipped?
All orders are shipped within 24-48 hrs except bulk orders, which can take a little more time to ship.
2. I want to order Callus Performance products in bulk, how do I contact for wholesale pricing?
For wholesale and Bulk orders (Orders on 25 more), kindly submit your request here. Our team will contact you.
3. Can I request a specific date or time slot for my delivery?
We are unable to take such requests at the moment.
4. Late or Missed Delivery?
Please contact us to research further at contact@callusperformance.com
5. Do I need to sign to receive the product?
No, you don't.
Returns & Refunds FAQ?
What is the policy on refunds/exchanges?
Because each situation is unique we asked that you reach out to us for a resolution at contact@callusperformance.com
We have a no refunds or exchanges policy for any orders outside of the United States.


Callus Performance created a Patented tool, made in the USA that helps reduce the buildup of hand calluses, avoids tears and rips from poor callus management; Our goal is to keep you safe while training harder and longer. Every hard working athlete wants to avoid rips and tears during high intensity workouts, so you can keep training and doing what you love.
The Callus Score
A lot of results, benefits and innovations packed into portable 3 inches of care.
Uni-directional blades to hit your callus in anyway you need, to the thickness you want
The hollow ABS tube collects scrapes of callus
The bottom has a replaceable emery cloth sand cap, to smooth your callus to comfort.
Avoid catching a rough callus and ripping
Files and smooths without razors
Easy to clean and carry
Gives you a Grip that won't Rip.
PATENTED PROVEN PROTECTION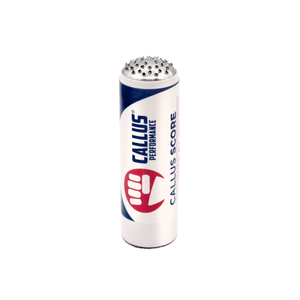 See how these Elite Athletes use and rely on Callus Performance
Used and beloved by worldwide Athletes of various sports, training and physical.
Dallin Pepper - 3x Fittest Teen on Earth
Using Callus Performance to excel at Fitness Training
Marquan Jones - CrossFit Athlete
Explaining how to manage Calluses with Callus Performance
Colleen Fotsch - ATHLETE EXTRAORDINAIRE
How she uses Callus Performance to keep her hands tear and rip free
Danielle Brandon - 3x CrossFit Games Athlete
Excited to keep her hands healthy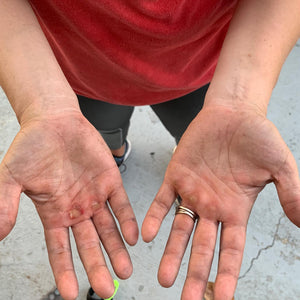 Callus know-all
The Callus Score gives you control to get your callus to your desired thickness and size. It's painless and safe. Using razors is not for the faint of heart and can actually cause your skin to produce scar tissue. Scoring avoid the issues caused by cutting off the callus.
Calluses have benefit, but an unmanaged one can catch, rip and bleed, resulting in injury, infection and likely missing out on your event or sport.
Callus Score is portable, affordable and washable. Use it when dry, and throw it in your gym bag. The stainless steel blades don't rust and the ABS body can take a beating. Use it regularly for the best effects.
Callus can form even when using gloves, so Callus care and management is the key to training longer, harder and smarter.
Callus removal/shaving/filing is just part of the overall routine. be sure the use the Callus Healing Salve to ensure a penetrating healing effect.
works on feet too!
Callus is formed and commonly found on hands and feet in physical activities such as: weight training, gymnastics, Crossfit training, rock climbing, soccer, rowing and even in trades like plumbers, carpentry and electricians.
Use Callus Performance, a proven safe and effective callus tool, trusted and used by Worldwide athletes.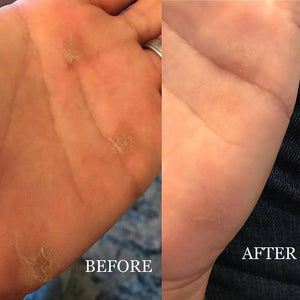 Taylar "Made" Stallings
Relies on Callus Performance to keep up her high volume Gymnastics
Bethaney Shadburn - Athlete
Using Callus Performance to keep her hands healthy for Gym and crossfit training